What is a Service Agreement?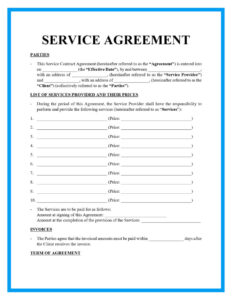 An NDIS Service agreement is a document that outlines a contract between a participant and a service provider. This document will contain some key information about both the providers and participants roles and responsibilities under the contract. Things like –
What services will be provided
How much the services will cost, plus the break down of costs – ie travel costs
When the services will be provided
What period of time the services will be provided ie contracted dates
How the service agreement maybe changed or renewed 
If any issues arise, how these will be handled
As someone receiving support from providers, it is crucial to bear in mind that you are the one in command of how your supports are provided and by whom. This is the "choice and control' component outlined in the NDIS guidelines. It is often the case that providers will try to make things easy on themselves by implementing a pre-written service agreement. But as you are the person the supports are designed to assist they should be tailored to your needs and be done in consultation with you. What this means is that you have the power to request reasonable adjustments to the agreement if needed. Don't be daunted or overwhelmed by the process of drafting an agreement. Embrace your right to be involved in advocating for your own preferences and needs to ensure that your care aligns with your expectations.
Why are Service Agreements important to have?
A service agreement is an incredibly useful document that provides a great deal of guidance, flexibility, and protection for people who rely on NDIS funding and services. Although initially appearing as just a piece of paper, a service agreement can offer much more than meets the eye. Having a clear and comprehensive service agreement in place can provide you with peace of mind by setting out your service expectations, goals, and outcomes in detail. It can also help to establish trust and a strong working relationship with your provider. This helps to build a positive and effective partnership that supports your needs and goals. 
Furthermore, a service agreement can provide you with legal protection and ensure that you receive the services you need. Even if your circumstances change or unexpected challenges arise. Therefore, it is always highly recommended to have service agreements in place to ensure the best possible outcomes for you.
Having a service agreement in place enables you, your support coordinator and/or plan manager to budget your funding. This ensures you don't run out of funds and can access the supports you need throughout the duration of your plan term. 
If a business is registered with the National Disability Insurance Scheme (NDIS), it must make an agreement to provide services to their customers. However, if a business is unregistered, they do not have to create such an agreement. If you are getting services from an unregistered business, you can ask them to make this agreement with you.
If you need assistance with completing a service agreement who can you ask?
The management of service agreements is an important aspect of disability support services. These agreements are typically managed by the service provider and the participants themselves. However, if you happen to have support coordination as part of your NDIS funded supports, then a part of your support coordinator's role is to manage your service agreements.
We understand that some participants may feel uncomfortable sharing their service agreements with their plan managers. But we recommend you to do it so as they can also assist you in managing your budget. It's important to note that any shared agreements are kept confidential and only used to help them track your budget. Ultimately, it's your choice as to whether or not you want to share your service agreements.